Gender analysis as a service
Now, iMatrics offers a powerful new tool for helping content creators target various demographics, including gender.
With the new iMatrics Gender Analysis tool, content creators can have their content automatically tagged by gender. This is a powerful new tool that addresses the need for equality in content, a pain point that has been brought to iMatrics' attention by clients who wanted an easy-to-use interface that would give them feedback on gender representation both in real-time and over a duration of time.
iMatrics Gender Analysis is an integrated function already built into the CMS of many publishers, thanks to partnerships already in place by iMatrics. If content creators and publishers don't have access to the iMatrics Gender Analysis tool through their CMS platform, they can also access it through easy-to-integrate APIs. If they aren't already a media client or using the CMS, the iMatrics portal can be used to access this tool.
Our clients and we believe our gender service is a perfect tool for companies that want to work for a more equal gender representation; it's fast, live, accurate, flexible, and could be integrated into most CMS systems, – Fredrik Lundberg, iMatrics
With this streamlined, integrated tool, publishers get instant feedback as they create content. It works in real-time, with the content being streamed into the cloud where it is then analyzed by iMatrics' leading-edge AI interface. From there, data are automatically created based on gender. This is accomplished by an algorithm that looks for the frequency and kind of pronouns used in the content. Then, content creators can see their data in real-time. iMatrics Gender Analysis gives publishers, editors, journalists, and content creators a way to more efficiently and effectively writing for their audiences.
High-quality and consistent metadata provides a foundation for recommendations, automation, and personalization, as well as improving SEO and reach. – Fredrik Lundberg, iMatrics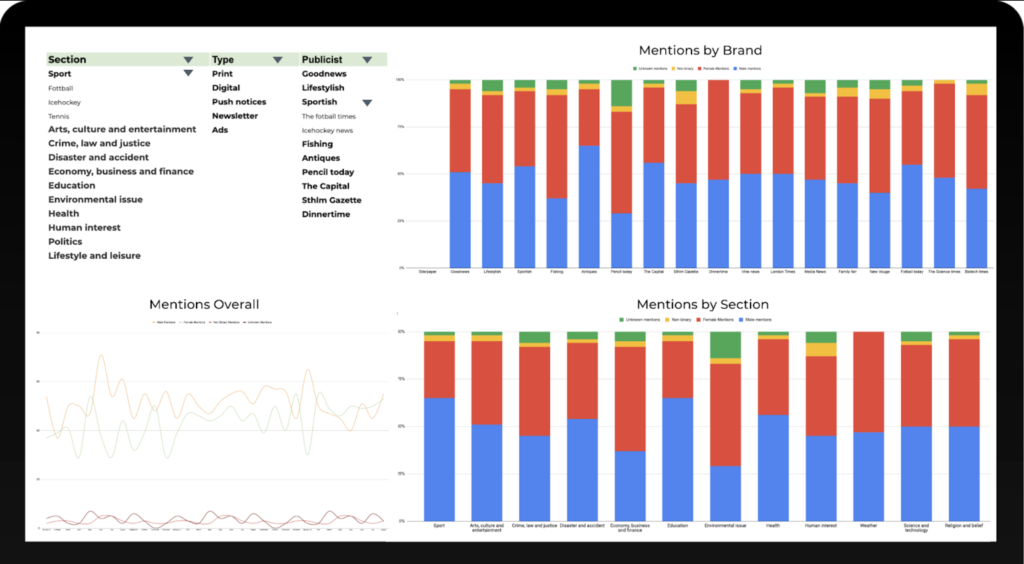 The data provided by iMatrics Gender Analysis is presented in an aesthetically pleasing, clean graph so that it can be easily translated. What's especially interesting is that this data can be further analyzed to yield more insights depending upon the need of content creators. The tool is compatible with a wide variety of formats, making iMatrics Gender Analysis a trusted feature for publishers everywhere.
The real-time live and long-term feedback offered by iMatrics Gender Analysis is already being used by many publishers.
Our mission is to show the world as it is, in all aspects and from every angle. The gender tool from iMatrics helps us keep track of one of these aspects in an easy and effective way. We get instant feedback on a individual and aggregated level on how well we are mirroring the world. Gone are the days of time consuming manual counting. – Jens Pehrson, Gota Media
In a time when people strive more for equality every day, iMatrics is proud to deliver a tool for ensuring gender representation in content.
reach out to: fredrik.lundberg@imatrics.com to learn more.