SOLUTIONS
Our experience and many successful projects have shown us that metadata is a crucial next step in the digitalization in the media industry. Let our passion for metadata and publishing help you reach your digital goals. Scroll down for more information on our existing and future solutions.
Auto-tagging
The language-independent AI solution enables more time for journalists to focus on their primary task; writing. At the same time, it provides better quality data that improves decision-making, and opens up opportunities to build new products and services.
Our solution automatically checks your articles for suitable tags and prepares them for publishing on the web. As you write, it generates the correct metadata in the background, including the most relevant tags to optimize contextualization. High-quality and consistent metadata provides a foundation for recommendations, automation, and personalization, as well as improving SEO and reach.
Automation & personalization
Our solutions enable automatic or semi-automatic processes that provide a personalized user experience and improve publishing efficiency. Recommendations, automated landing pages, concept (topic) pages, personalized news feeds and newsletter integration are all important parts of this. Benefits include more loyal users, more efficient work processes and increased SEO reach.
We offer a recommendation system that can be used to provide the classic "You might also be interested in" experience based on editorial input (news value), contextuality, popularity and personal interest. This service can easily be extended to help with automated landing pages.
On top of this we are assisting our customers with concept (topic) pages, personalized news feeds and newsletters. If you are interested in working with us on these areas at an early stage and would like to influence our development strategies, please reach out!
Personalized article feeds
Content & audience analysis
Auto-tagging is really a means to an end. Tags enable you to understand your content and analyze it; mixed with user data, you get valuable insight about your production and user consumption patterns. With these insights, decision-making becomes easier and more accurate.
Using iMatrics REST API, it's easy to import the tags into different systems such as DMPs or data lakes. If questions, issues or ideas arise, our skilled developers and data scientists are ready to help you out. We are used to supporting our customers with data wrangling, clustering analysis and sorting out use cases.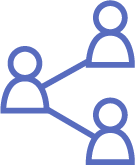 Data science as a service

Survey (free-text) analysis
Address
Teknikringen 9, 583 30 Linköping Sweden